Louise Drinnan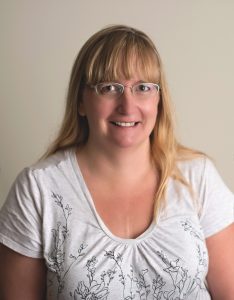 Louise had been interested in massage since high school but went the esthetics and administrative route first. Not feeling fulfilled, she decided to pursue her dream of becoming a Massage Therapist. She graduated in 2013 with 2200 hours of training. She joined us at the Wellness Studio in 2014!
Louise is trained in relaxation, therapeutic, deep tissue, prenatal and juvenile massage. She is also trained in therapeutic breast massage. She has also incorporating CranioSacral Therapy into her practice and is very excited to be able to offer this to her clients.
She is constantly amazed by the human body and the healing benefits of massage. She loves that she gets to have a direct hand in helping people feel better, and tries to look at each person as a puzzle and figure out how to make the puzzle fit together better.
Louise was born and raised here in Calgary and when not at work, you will find her either with family and friends, or cheering her son on at the soccer field!
Lori Weldon
Lori Weldon is a  Massage Therapist with the Alberta Massage Therapist and Holistic Practitioners Association.
Her practice mainly focuses on deep tissue therapy which is more than just working on muscles. She has a strong belief in looking at the structural integrity of the body as a whole. Lori's treatments vary from patient to patient because she works from an intuitive place which guides the direction of her treatments.
As mentioned before, she not only works with soft tissue but also works with the bones, fascia, and the function of the joints.
Lori is trained in pregnancy massage, myofascial release and zero balancing which is a bone energy technique. She likes to use many techniques and different modalities depending on the need of the client.
Heather Mix, RMT, RHN
Heather Mix graduated from the Grant MacEwan Massage Therapy Program in Edmonton in 1999. Upon completion, she went on to acquire her certification in pre and perinatal massage, focusing not only on the prenatal benefits of massage, but also on facilitating the labour process and post-partum recovery. To compliment her massage therapy skills, Heather has also practiced as a professional labour assistant, otherwise known as a Doula. Heather went on to acquire her certification in foot reflexology, through the Universal College of Reflexology in 2005. With this holistic therapy, Heather also offers Therapeutic European Reflexology and Maternity Reflexology; the latter is specifically designed sessions to address infertility, pregnancy and post-partum concerns.
To compliment her services, Heather graduated from the Canadian College of Natural Nutrition (CSNN) with a diploma in Holistic Nutrition in 2009.  As a busy mom of two young children, she is not doing nutritional consulting at this time, but continues to do post-graduate studies focusing on women's health and pediatrics.
Heather has been a member of the Natural Health Practitioners of Canada (NHPC) since 1999, and regularly does upgrading to improve her skills to learn a new technique or modality.  She is currently doing her advanced orthopedic massage certification.
Her passion and specialty is pre and perinatal massage, facilitating mommas through the transition of pregnancy and post-partum recovery.